Lake Garda cottages
Holiday rentals - cottages & holiday homes to rent on Lake Garda
Lake Garda is Italy's largest lake and is just over 51km long. Surrounded by rolling hills in the south and high peaks in the north, Lake Garda looks more like a Norwegian fjord.
During the summer, the cottages around the lake are full of tourists from all over the world who come to relax, enjoy the surroundings and water sports such as sailing and windsurfing or simply chilling out at one of the many beaches.
Sporting activities around Lake Garda
Cliff climbing and vie ferrata
Windsurfing and sailing
Biking
Treking
Golf
Skiing and snowboarding on Monte Baldo above Malcesine
During the winter, the snow starts to fall on the northern peaks surrounding the lake which makes the impressive scenery even more spectacular. Temperatures around the lake get quite chilly but you'll find that many of the cottages are equipped with central heating and open log fires. Hiking and mountain biking are still very popular right through the winter season.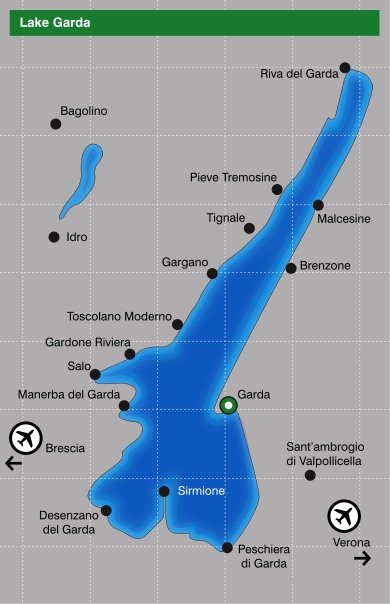 Featured cottages on Lake Garda
With its many cottages and resorts dotted around the shores, Lake Garda offers plenty of variety in terms of where to stay. Offering a warm and very friendly stay, there is a very good selection of private holiday rentals including villas and apartments around the shores. They typically offer excellent value and provide the ideal base for exploring this incredibly beautiful part of northern Italy.
See all rentals
Featured resorts
Things to see and do around Lake Garda
Lake Garda is full of historic villages, museums and gardens plus there are some superb excursions.
| A few suggestions.... | |
| --- | --- |
| Visit Sirmione castle | ✔ |
| Windsurfing and sailing is very popular in the northern part of Lake Garda | ✔ |
| Take the kids to the Parco Natura Viva safari park | ✔ |
| Visit one the many waterparks - Canevaworld, Picoverde or Cavour in Valeggio sul Mincio | ✔ |
| Take a boat out to Isola Borghese, the largest island on Lake Garda. | ✔ |
| Ride the rotating cable car from Malcesine to the top of Monte Baldo at 1760m | ✔ |
Skiing
If you are visiting Lake Garda during the winter, you can always go skiing on the slopes above the village of Malcesine on Lake Garda. or, if you are looking for larger resorts, you can venture out to the Dolomites and ski in a number if international resorts such as...
Distances from Riva del Garda
Our view on Lake Garda
Lake Garda could be included as one of the natural wonders of the world - it is that beautiful! We think the resorts around Lake Garda offer a wide variety of choice from the quaint and traditional to the lively and cosmopolitan. Spectacular scenery, great restaurants and plenty to see and do. In a nutshell, Lake Garda is an ideal destination for a cottage holiday any time of year....
List your cottage
Cottage rentals are getting more popular with travellers from families to adventurers.
List your cottage on MyCottageFinder today!
List your property
View properties in