Languedoc-Roussillon cottage holidays
Holiday rentals - cottages & apartments for rent in Languedoc
Languedoc-Roussillon, known as the Languedoc, is the central region of the south of France stretching from the Rhone valley in the east, to the Spanish border in the south west. The regional capital is Montpellier, a thriving modern city in the Hérault with a historic centre, but there are also other facinating historical cities such as Nîmes, Narbonne and Perpignan.
On the coast of Languedoc, you'll find long and spacious sandy beaches with plenty of facilities and entertainment, whilst inland there are countless vineyards that run in to the valleys of the Cevennes and further on to the southern peaks of the Massif Central.
| At a glance... | |
| --- | --- |
| Blue flag beaches | ✔ |
| Watersports | ✔ |
| Historical sites | ✔ |
| Spa & wellness | ✔ |
| Golf | ✔ |
| Mountain biking in the foot hills | ✔ |
| Hiking trails | ✔ |
| Regional airport | Perpignan |
Featured cottages in Languedoc-Roussillon
Self catering holiday rentals, whether coastal cottages or apartments, are very popuar along the Languedoc-Roussillon coast and are certainly great value. The self catering accommodation closest to the beaches and the popular resorts do, however, get booked many months in advance so planning ahead is essential if you want the best locations. Staying on the Pyrenees side, there is a special blend of coastal villages such as Banyuls and Collioure with rocky cliffs backing on to the mountains, and hill side cottages with spectacular views of the bays, perfect for combining beach and mountain holidays.
See all rentals
Featured Resorts
Things to see and do in Languedoc-Roussillon
Languedoc is packed with things to see and do whilst on your cottage holiday.
| At a glance... | |
| --- | --- |
| A day trip to the old city of Nîmes with its narrow streets and Roman remains | ✔ |
| Explore the river and deep Gorges du Tarn in the Causses | ✔ |
| Close to the Spanish border at Sigean is the largest safari park in France | ✔ |
| Ride a boat on The Canal du Midi, the oldest major canal in the world built in 1861 | ✔ |
| Wander around the famous walled city of Carcassonne | ✔ |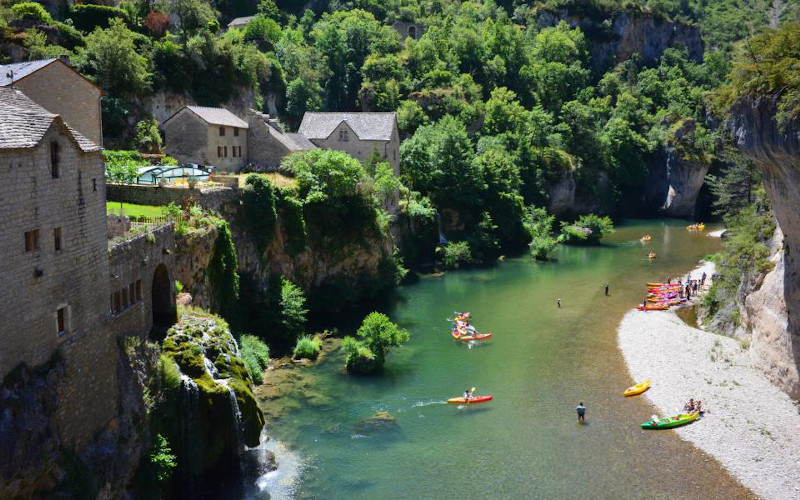 Our view on Languedoc-Roussillon
We think the Languedoc - Roussillon region of southern France has a fascinating and interesting mix of old cultures, historical cities and contrasting landscapes with the rocky cliffs and tiny coves of the Pyrenees section to the long sandy beaches of the central belt. What makes the region more appealing is that it is less crowded during the peak summer months than other parts of the Mediterranean and you don't seem to experience the sudden jump in prices as soon as the school holidays start. A superb value for money destination for family holidays with short transfers, great food and wine and plenty of sunshine. Renting a holiday cottage gives you the space, freedom and flexibility to do what you want, when you want - home from home.
List your cottage
Cottage rentals are getting more popular with travellers from families to adventurers.
List your cottage on MyCottageFinder today!
List your property
View properties in