Arcachon cottage holidays, Gironde
Holiday rentals - cottages & holiday homes to rent in Arachon
Arcachon hugs the edge of a large lagoon surrounded by the impressive Landes forest and across the basin from the famous Cap Ferret. It is a popular and busy beach resort in the summer season and just 60km south-west of Bordeaux.
With 7km of sandy beaches, you will be spoilt for choice. Pereire beach has fantastic views of Cap Ferret while Arbousiers beach is where the kite surfers and handgliding fraternity hangout. The town centre beach, looking on to the Île aux Oiseaux with its oyster beds, is flanked by a pretty promenade with many shops, cafes and restaurants.
Away from the beach, the town offers plenty of evening entertainment from fine dining to late nigh clubs and casino. Arcachon is famous for its wellbeing centres - thalassotherapy originated here and the town's Abatilles mineral water spring is known for it's medicinal benefits.
| At a glance... | |
| --- | --- |
| Restaurants | 35+ |
| Watersports | ✔ |
| Beach clubs | ✔ |
| Spa & wellness | ✔ |
| Vineyards | ✔ |
| Port and seafood market | ✔ |
| Car recommended | ✔ |
| Main airport | Bordeaux (90km) |
| Train station | Arcachon |
Featured cottages in Arcachon
There are plenty of options when choosing where to stay with some 8,500 tourist beds with some excellent self catering holiday rentals including beautiful cottages and seaside apartments. Whilst many holiday homes are within walking distance to the town centre and beaches, some of the cottages sit on the hill tops looking into the Arcachon valley - quiet and tranquil but you will need a car.
See all rentals
Things to see and do in Arcachon
This seaside resort is the ideal spot to relax and unwind and soak up the atmosphere and yet there is so much to see and do both around the coast and inland. Arcachon and the surrounding area is full of interesting villages, historic cities and countryside to explore. One of the hot-spots is Hourtin-Carcans. This is the largest lake in France and is surrounded by beautiful beaches backing on to pine forests plus there is a good selection of watersports.
| A few suggestions... | |
| --- | --- |
| The bustling city of Bordeaux is just 60km away and is well worth the trip. | ✔ |
| Take a boat to the beautiful Cap Ferret | ✔ |
| Wine tasting at the vineyards | ✔ |
| Cyclying around the country roads | ✔ |
| Tour one of the many oyster parks | ✔ |
| Dune du Pilat, the largest sand dune in Europe standing at 105m high | ✔ |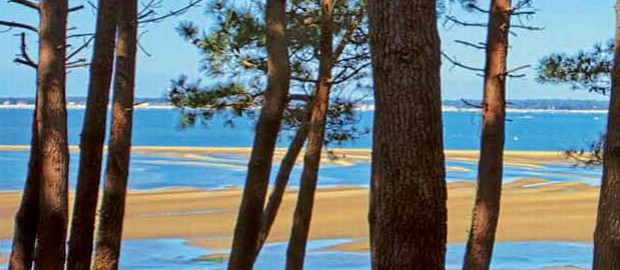 Our view on Arcachon
We think this pretty country town, the smallest comune in France, is one of those places you'll fall in love with and return to year after year. During the summer, it's a melting pot of tourists from all over the world who go to soak up the atmosphere, wine and dine and simply have a good time. Renting a cottage in Arcachon is perfect for familes, friends and groups. It provides the space, freedom and flexibility to do what you want, when you want - home from home.